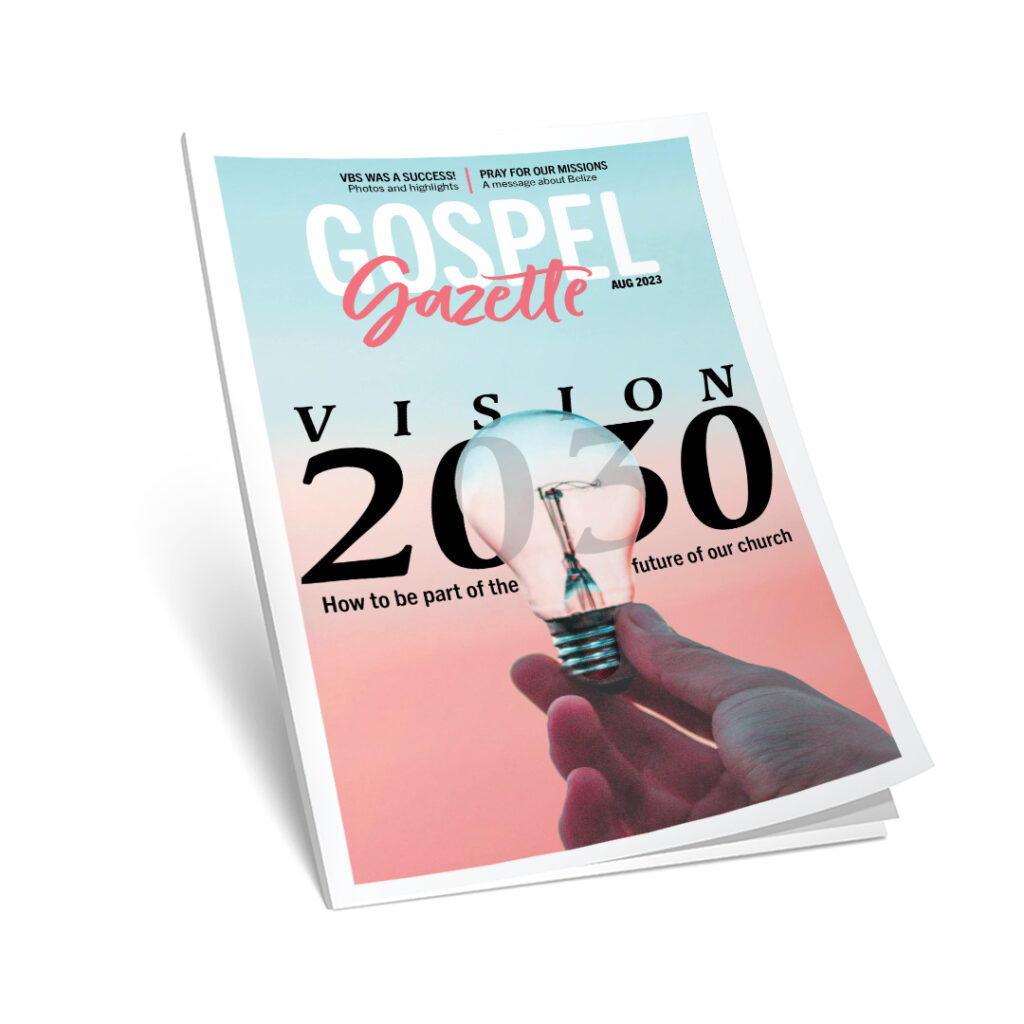 In this issue:
Pastor David Averill on the mission of Vision2030
VBS Success
Updates from Barefoot Youth
New Sermon Series
Events throughout the month
A letter from the Belize missionaries
News, updates, and more!
---
YOU'VE PROBABLY HEARD ME MENTION VISION2030 more and more frequently over the past few months. But you may not know exactly what this initiative is, or what exactly the Vision2030 Team is working to accomplish. Allow me to give you some background:
Vision 2030 was first recommended to the congregation last September by the Nominations Committee (a.k.a. Committee on Lay Leadership) and The Church Council. Vision 2030 has been tasked with gaining a thorough understanding of our church as it is today, and creating a strategic plan that clarifies our mission, vision, and values over the next five to seven years. The fulfillment of this plan will coincide with the 150th anniversary of our church in the 2030.
To successfully complete this process of long-range planning, we regularly seek your input, usually in the form of congregational interests and preferences. The feedback we received from our latest survey will help us achieve three objectives: 
to make recommendations that will enhance existing programs
to add new programs where appropriate
to brainstorm new initiatives to increase participation and engagement.
We will follow up this survey with focus groups with key organizations within the church to follow up on results and receive more detailed feedback.
Looking to the future, in particular, our church needs to be in position to attract those church persons who relocate here as well as make new disciples of those who have roots in the community, but no roots in Christ (i.e., persons without a church home).
We desire feedback from as many of our church members and friends as possible to get the fullest picture of our congregation. If you filled out the survey or encouraged others to do so, we are grateful to you for participating in a sacred process of helping this leadership team discern a clearer vision for the future of this church.
Grace and Peace,
David Averill
---
VBS Success!
What a great week it was to serve at our Hero Hotline VBS. Here are a few highlights from the week:
105 Children attended at least one day
93 Volunteers (aka "Very Blessed Servants") 
800 community service hours earned by 53 youth volunteers.
$400 raised for the K-9 Unit of the Lake County Sheriff's Department.
With visits from Lake County Sheriff's Deputies, Mount Dora firefighters, military veterans, teachers, and the PAWS pet companion program, we certainly met a lot of heroes! 
We responded to the call of God in a big way this year! Know that however you contributed via your prayers, presence, gifts, service, and witness, you are a hero for God's Kingdom. Thank you for serving in the name of our Lord, Victor, and Redeemer, Jesus.
---
Thank you, Miss Elizabeth!
After 35 years of service, Elizabeth Craycraft is retiring from our child care ministry. When you see her around campus, please thank her for her service. We are so grateful for everything she has done for generations of First UMC children. If you are interested in volunteering in our nursery one Sunday or every Sunday at 9:30 or 11:00 am, please contact Janet Westlake.
---
Barefoot Youth Ministries had had a great summer! 
Between summer camp at Warren Willis, VBS, and the Youth 2023 Conference in Daytona Beach, the youth group has been busy. One of the most exciting developments has been our record attendance on Sunday mornings. We broke our attendance record three times! From January, the Sunday morning youth program has quadrupled! We are currently looking for people who might be interested in volunteering to help with our Barefoot Sunday group.
Over the summer, our youth room got some major updates. New tables and chairs, a neon cross, decorative lights, and wall décor. The youth basement is decluttered, clean, and ready for Back to Barefoot fall kickoff.
Speaking of Back to Barefoot, we are relaunching Barefoot in the fall. New curriculum, more interactive small groups, and a larger focus on organization and training will all be a part of the Barefoot relaunch. Get ready, because we will relaunch on August 23!
—Hannah McMahan
---
New Sermon Series: Road Trip
Our church will spend seven weeks traveling with Jesus from his early days in Galilee, to the cross and beyond.
Like impatient kids riding in the backseat, we'll ask many questions: Why is Jesus always on the move? How do we travel with him? Why do some choose not to take that journey? How did Jesus continue to travel boldly in the face of mounting opposition? Why wasn't the tomb the end of his travels?
Weekly sermons and daily readings from the Gospel of Mark will serve as our roadmap.
---
Fundraiser Event: An Afternoon of Hymns
Sun, Aug 13, 3pm, Sanctuary. Myra Johnson will be performing a piano concert of hymns to raise money for missions. Admission is free, but donations will be accepted. All proceeds go toward the purchase of medicine for an upcoming health event for severely impoverished communities. 
Myra is currently accepting requests of favorite hymns to be performed in memory or honor of a loved one or friend. To request a hymn, please contact the church office.
More Events in August
Coffee Fellowship
Sundays, 8-10:30am, Conference Room. Enjoy a cup of coffee between services and enjoy time with your friends and fellow congregants.
Exercise Class
Mondays, Wednesdays, and Fridays, 9am, Friendship Hall. Stretch your body and your mind three times per week.
Blessing of the Students
Sunday, August 13, 9:30am. Join us as we pray for our students and school personnel to have a safe and productive year.
Lake Cares Food Distribution
Friday, August 18, 7:30-9am, Martin Luther King Center. Our mobile distribution site needs volunteers to bag groceries, stand at a table to distribute groceries, and pull a wagon to help clients to their vehicles.
Wonderful Wednesdays Return!
Beginning, August 23, 6-8pm. Enjoy your favorite night of the week with social time and Bible study for children, teens, and adults.
Widowed Support Group
Thursday, August 24, 9:30am, Chapel. Those who have lost a spouse come together to support one another on the journey of grief.
---
Thank You Notes
Betty Steele wants to thank the congregation for the prayers, the cards, and the calls. They have meant a great deal to her.
Marjorie Stevenson and Mona Amaral would like to thank the Singing Saints for visiting. The visit and the music were a great blessing to them.
We are grateful to the nine students and three schoolteachers helped our regular volunteers serve 58 families at the King Center on Friday, July 21. Thank you for your generosity!
---
Our next trip to Belize: A letter from Jim Flach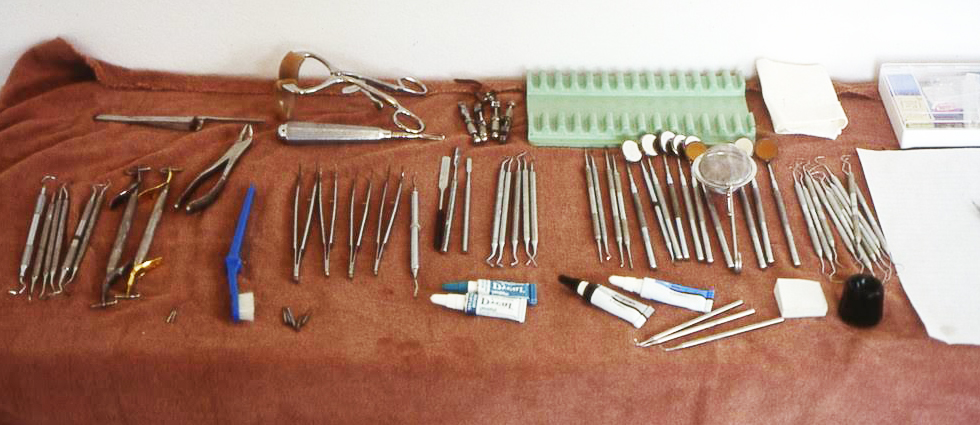 Dear church,
From October 13 to 22, nine of us will travel to Belize to perform some maintenance on the Forest Home Medical & Dental Clinic. It is currently in need of a full repainting, interior and exterior.
The clinic was built in 2003, and consists of two exam rooms, two fully equipped dental operatories, and a dental hygiene room equipped for two hygienists.
Our church has already been involved with over 30 medical, dental, and/or building construction missions in Africa, St. Croix, Honduras, Brazil, Panama, and flood relief in Illinois. Our main focus, however, has been Belize.
My first mission to Belize was in 1991. My only companion was Bill Kennedy, who agreed to be my dental assistant. We were required to be "self-sufficient," so we brought our own generator, a portable dental unit, and the instruments and materials needed for fillings and extractions.
We saw patients in four villages: Punta Gorda, Forest Home, Mafradie, and San Antonio. Each location had a "clinic" with no doors or windows, no electricity, no running water — only four walls and a ceiling. We had to set up and break down all our equipment each day, and wash and sanitize them all for the next day.
The "clinic" setup in other missions for the first few years was similar. In Africa , our dental chair was a bench with rocks at one end to elevate the head. The rocks were covered with a board and a pillow tied over it for comfort.
It always took me a day or two to quit reaching for the buttons to adjust the height of the chair.
When the villagers knew we were there, we could draw a crowd. We tried to focus on children between 8 and 13, who were getting their permanent teeth. They were extremely good, brave patients, considering they had never been to a dentist.
In the years that followed, airlines began tightening restrictions and transporting medical supplies became prohibitively difficult. We built the permanent clinic in partnership with Palm Harbor United Methodist Church, which was planning to build a medical clinic there. It was nice to work in a complete operatory, and I could finally push the buttons and get the chair to move up and down.
It has recently had a new roof, new termite-proof ceiling tiles and some new exterior doors. We are looking forward to having the opportunity to maintain and take care of it, so it can be used on medical missions for years to come.
I ask for everyone's prayers for the mission. If you can, please make a donation to the international mission fund. Any amount helps.
Thank you.
Jim Flach is a retired dentist who practiced in Mount Dora for 45 years. He and his wife have been members of the church since 1980.